Hindu extremists martyred the ancient Babri Masjid on December 5 (File photo)
Case written in the context of Babri Masjid's impressionistic writing of Danish Riyadh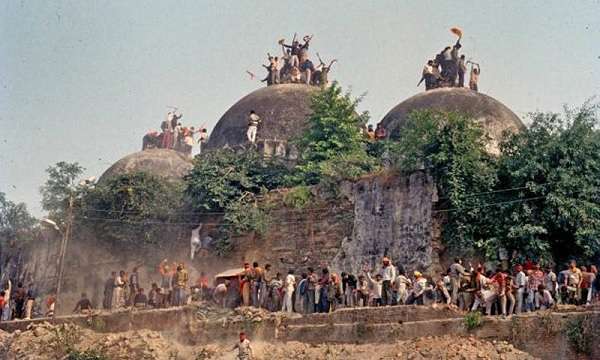 This is about twenty-two years ago, when Abdullah Amar Rashedi, the elder brother of President of the Rashtriya Ulema Council, Maulana Mujibullah Nadi (late), the grandson of Al-Rashid-e-Azam Gadh, laid the foundation of this education and training. Established in Ayodhya too. Amar Bhai used to organize various educational programs and invited people from all over the country to come to Ayodhya. In one of the meetings, he also told me that you should first review the place And if you write something down then maybe you can succeed in writing better, and finally in an educational and cultural program, they called me Ayodhya and provided me with a chance to stay for several days.
Since I had read the book "Babri Masjid" published by Dar es Salafin, it was mentioned that it is also the city of mosques and shrines, so the paladin spent counting the mosques. Surprisingly, within six kilometers, there are probably one hundred three or one hundred and four hundred mosques, most of which are either closed or existing in a very dilapidated state. Behind the Babri mosque there is also the Adil Shahi Mosque. It also has about one and a half acres of land, but this area was also occupied by people who were known to come here in different parts of the country to commit crimes and hide their identity by being simple. Are also protected. After counting the mosques, I wanted to count the shrines and visit them. First, they were taken to the tomb of Hazrat Shi'at (as). There are many other tombs in this compound. Some talk was also made regarding the graves of Ayub (peace be upon him). While Lal Shahbaz Qalandar was taken to the tombs of Hazrat Salar Masood Ghazi Shaheed (may Allah be pleased with him), and the people mentioned the saints, Sufis It is said that there are about 4,000 shrines which are attributed to the religion of the saints. Surprisingly, there were seven mosques and shrines. Six thousand temples were mentioned. Any Pandit based in Ayodhya should ask where Ram Ji was born so he would point to his hut where he worships every Hindu of Ayodhya. The house has a story of its own that it wants to tell to everyone who has gone there for information.
One evening I also visited the house of the late Hashim Ansari, who was sitting on the couch outside his old house. Because the people I went with were also special to Hashim Sahib, so Hashim Sahib (late) in his procession. ) Made a banquet with tea, but during the conversation, he described the pain he had been suffering for years. After today's decision, the pain can be felt in the statement of Iqbal Ansari, son of Hashim Ansari (late). Hashim said, "We are very poor, there is no good employment arrangement and this litigation. I even waited for pie to go to court. In Delhi and Lucknow, there were big meetings on the issue. There are millions of expenses but no one can even manage our expenses. Since Abdullah Amarbhai Hashim was very supportive in solving the problems, he also expressed his indifference to Abdullah's brother.
Interestingly, the entire Ayodhya was offering a practical picture of Ayodhya, a serial ramen broadcast from DD. Pandits and priestesses wore their traditional robes with dhoti. While in most houses the temple was built either outside the penthouse or in the hallway. At noon the whole area but the whole atmosphere seemed as if we were inside a ruin. There is a world of strange phenomena. There are voices that if a man is lonely, he may suffer from fear.
In fact, Ayodhya has been a source of goodwill from the very beginning. He says that when Buddhism was spoken in India, there were twenty thousand Buddhist temples in Ayodhya. It is said about Mahatma Buddha. Has spent 3 years or three years in this area, while more than 3,000 monks have always lived here, but the tragedy is that Ayodhya is now completely free from any sign of the Buddhists. Five of the parents were born here but there is no sign of Jain religion.
A demonstration of the spirit that fueled Abdullah Ammar Bhai through madrassa education and training was seen by the ten Muharram when the youth started showing their devotion in various groups and on the road adjoining the Babri Masjid where the PAC was stationed. Organized its own protest program, which was believed that we would jump into the fire and perform prostration in the Babri Masjid. This procession of Muharram was truly unique in which the youth drew the peeps of the Shaheed Babri Masjid. Swords and sticks. After the act, a group of youths would burn around the mosque's module and then some nine. The young men used to jump into the bonfire, perform prostration, pray and then come out of the bonfire. Even those who have seen this procession will feel how the youth of Ayodhya themselves have kept the Shaheed Babri Masjid in their hearts.
The verdict of the Supreme Court today